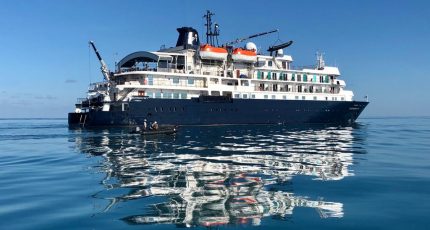 APT Kimberley Season Kicks Off
APT is delighted to launch its 2022 Kimberley Season with the first sailing from Broome departing today.
The Australian owned MS Caledonian Sky small expedition ship sets sail today on the first sailing of what is set to be a bumper season with 25 departures.
Running cruises in the Kimberley until September the company is thrilled to kick it off today and looks forward to welcoming guests to this amazing region.
APT product Manager Cher Lontok commented on the first sailing "It is wonderful to be celebrating our first sailing in the Kimberley for 2022. Kimberley Cruising with APT is such a special experience that we know our guests love and this season is looking to be one of our biggest in our 40 plus year history in the Kimberley."
The MS Caledonian Sky is the perfect ship for exploring Australia's most remote coastlines, offering the ideal balance between the spacious comfort of a large ocean liner and the boutique advantage of a smaller ship. Guests can enjoy a truly intimate travel experience, as MS Caledonian accommodates just 99 guests and 75 crew, and with so few passengers aboard, group excursions can remain small, with no queuing!
APT are running a range of exciting itineraries and travel styles this season. The 10-Day Grand Kimberley Coast has proven to be incredibly popular – offering once-in-a-lifetime moments such as riding a high-power boat to the mouth of the astonishing natural spectacle that is Horizontal Falls.
The 7-day Kimberley Coastal Encounter also boasts a jam-pack itinerary visitng five destinations, with exclusive signature experiences including an in-depth exploration of Montgomery Reef by Zodiac and a viewing of Bigge Islands renowned indigenous rock art.
For guests looking to further extend their wilderness wonderment, the 24-day Kimberley Complete with Grand Kimberley Coast incorporates both luxury cruising of the coastline, and the thrill of touring by 4WD across Australia's last great wilderness.
The cruises are all but sold out for 2022 but agents are encouraged to get in touch with APT if they have interested clients and get in quickly for 2023!