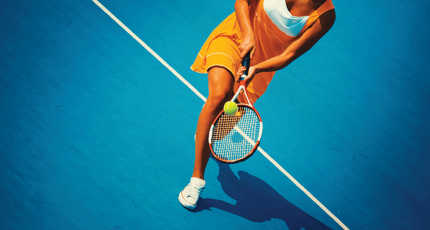 APT encourages Aussies to not be spectators
APT, the leaders in luxury travel, have announced their sponsorship of Channel Nine's broadcast of the Australian Open tennis tournament, set to kick off on 8 February 2021 as part of Australia's unmissable summer of tennis. Continuing their long-standing relationship with the ATP and the Australian Open, this will be the company's eighth year as a broadcast sponsor of the grand slam.
This sponsorship coincides with the launch of APT's new Live the dream campaign, encouraging Australians to get back out there in 2021 and start to lock-in future travel plans once again. It's one of a number of promotional activities designed to make travel top of mind, highly visible and more importantly, attainable during a time when the demand for domestic travel is increasing after an almost year-long hiatus.
With a wide breadth of product and increased inventory, APT is pleased to be actively promoting travel to such a large audience and sending the strong message that now is the time to book. With domestic product offerings across land, air and sea, the tours being promoted cover traditional popular itineraries, as well as brand new trips that have been developed specifically for this time. Campaign assets will be available for agents via ATG Connect to share with clients.
Commenting on the exciting announcement, APT Travel Group's GM Marketing and Digital, Vanesa Russack said, "We are excited to announce our ongoing partnership with the Australian Open and to share the message that Australia is open again at a time when we are finally able to make travel plans."
"Our broadcast sponsorship and our Live the dream campaign, celebrates a return to domestic travel and all the amazing destinations right here in Australia, and will build on the success of our previous years' involvement with the AO as a successful campaign in driving enquiries and sales to our agent partners. We know Australians are eager to get back out there and our promotional activities around this large-scale event will only strengthen this consumer sentiment." Russack concluded.
As part of the sponsorship, Channel Nine's 'Set Highlights' will be exclusively branded with the APT logo during the Australian Open broadcast. This in-broadcast activity will be supported by television commercials, billboards and extended video presence on the Wide World of Sports and 9Now catch-up video.
The campaign will also feature metro press in addition to the key broadcast placements in the lead up to the APT pre-tournament (starting January 24) as well as the Australian Open tournament broadcast itself from February 8.
Summer in Melbourne is synonymous with tennis and interstate travel, and the APT Travel Group is pleased to again be playing their part in making this year's broadcast, and travel season, one to remember.