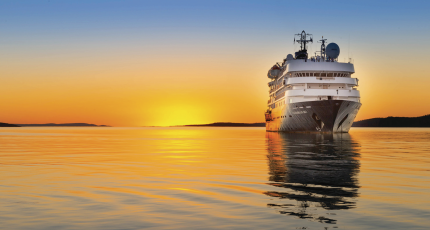 MS Caledonian Sky returns to Australian waters
APT, the leaders in luxury cruising and touring, today launched their much anticipated 2021/22 Australia Small Ship Expedition Cruises featuring the MS Caledonian Sky.
In response to an overwhelming demand to its Kimberley Coastal Cruising program and a new Cape York and Great Barrier Reef Expedition cruise, APT has planned eight brand-new cruises around Australia on the MS Caledonian Sky for 2021/22. Itineraries cover everywhere from the Great Barrier Reef to Kangaroo Island, King Island to the Abrolhos Islands, as well as the rugged east coast of Tasmania.
Commenting on the new product launch, General Manager Product, Mladen Vukic said, "It is exciting to be offering a new range of cruises in Australian waters and we know our travellers are just as pleased. We've seen significant demand for domestic voyages in 2021, for example our 2021 Kimberley Coastal Cruises sold out in record time. This has led us to expanding our small ship expedition cruising range to include even more diverse and isolated destinations across Australia."
"There are many benefits associated with small ship cruising, particularly on the MS Caledonian Sky, from much smaller guest numbers of no more than 99 passengers, to the ability to reach ports far away from the larger cruise ships. And of course, our strict hygiene policies, including strict pre-departure health screenings and enhanced sanitation protocols, will ensure the health and wellbeing of all passengers on board," said Vukic.
When the MS Caledonian Sky returns to Australian waters in early 2021, the vessel will transport APT guests to some of the country's most spectacular coastal destinations in the effortless, all-inclusive style for which APT is renowned. A maximum of just 99 passengers, intimate onboard spaces, Zodiacs for speedy exploration, and an enriching program of included shore excursions led by an APT's Expedition Leader and Team are all part of the appeal.