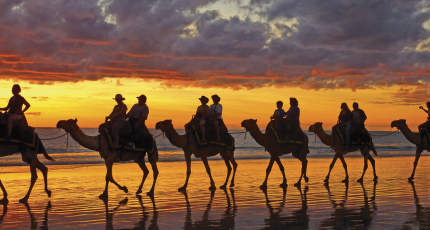 APH sets direction for 2021
Australian Pacific Holdings (APH) today announced that the company has made changes to its structure, investment portfolio and product range to position it for a sustainable, successful future in 2021 and beyond. Key to these changes is the cessation of some partnerships – in particular with two local travel companies, CruiseCo and Inspiring Vacations – and its investment in new products focused on Australian travel for the local market.
APH confirmed that CruiseCo has been sold to Helloworld Travel Limited, in a move that recognises the natural synergies and alignment between the two companies' memberships, and that APH's interest in Inspiring Vacations has been acquired by the company's founders. The divested companies were not considered to be core assets, according to APH management, and the moves were designed to deliver positive outcomes for all stakeholders.
APH is 100% Australian owned and is the holding company behind some of Australia's best known and trusted travel brands; APT, Captain's Choice and Travelmarvel, collectively known as the APT Travel Group (ATG). APH is committed to creating a bright future for the group, building resilience in a challenging period by ensuring that each business – both owned and partner – maintains its laser focus on the consumer and is ideally structured and resourced.
Core to its resilience strategy is the expanded portfolio of Australian and New Zealand holidays and product innovations by ATG. The largest company in the APH stable, luxury touring and cruising specialist APT has introduced new travel styles from Private Air Tours to Luxury Short Breaks and Walking Tours, as well as expanding its offering of small ship cruising beyond the Kimberley to most Australian coastal areas. Ultra-luxury player Captain's Choice has built a brand-new portfolio of premium local private jet journeys in under three months, and Travelmarvel has bolstered its classic escorted touring range and added new cruise options. Newcomer Travel Glo, has brought exciting new local product to market for the first time.
APH has also expanded its board membership to ensure it has the expertise to steer its composite businesses into the future. The board is committed to embracing new talent, fresh thinking and deep experience as it steers the Group into 2021 and beyond. To this end, with skills sets focused on customer, leadership, technology and transformation, Baldeep Gill and Claire Hatton have recently been appointed to the Board. The board now comprises: Simon Jones (Chair), Chris Hall (Group MD), Claire Hatton, Baldeep Gill, Ross Kemp (Group FD), Geoff McGeary OAM, Rob McGeary, Graeme Stubbs, Lou Tandy (nee McGeary), and Peter Wade.