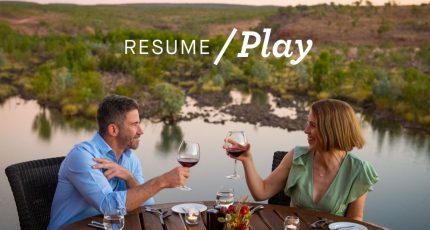 APT to Serve Up the 2022 Australian Open Broadcast for Ninth Year
APT, the leaders in luxury travel, are pleased to be continuing their ongoing sponsorship of Channel Nine's broadcast of the Australian Open tennis tournament for 2022.
APT has a long-standing relationship with Nine, the ATP and the Australian Open, this will be the company's ninth year as a broadcast sponsor of the grand slam.
As part of the sponsorship, Channel Nine's 'Set Highlights' will be exclusively branded with the APT logo during the Australian Open broadcast. This in-broadcast activity will be supported by television commercials, TV billboards and extended video presence on the Wide World of Sports and 9Now websites.
The Australian Open broadcast sponsorship coincides with the launch of the company's Resume Play campaign, with the promotion focusing on no more waiting or holding back your dreams – it's finally time to resume play and book travel for the next adventure. This is an elegant acknowledgment of APT's audiences' youthful and unquenchable desire for adventure, and the pent-up desire for travel.
Commenting on the sponsorship, APT Travel Group's GM Sales, Scott Ellis said, "We are extremely pleased that we can continue our ongoing partnership with the Australian Open particularly considering the current climate. It shows our travel agent partners and guests that APT is committed to continuing to offer amazing travel opportunities as we share the message that the world is opening again, and we are finally able to make travel plans. The campaign comes with inspiring marketing assets for agents to use as well, as hopefully plenty of your clients will see our ads while watching the tennis."
Summer in Melbourne is synonymous with tennis and interstate travel, and APT is pleased to again be playing their part in making this year's broadcast, and travel season, one to remember.
View APT's enticing TV advertisement here and agents can access the campaign assets through the ATG agent portal – ATG Connect.
To find out more, speak to your knowledgeable ATG BDM, call APT on 1300 278 278, or visit www.aptouring.com.au